July 10, 2018
Over the past few months, the most talked about subject within the vCommunity has been VMware on AWS. Although I have heard a lot about the solution at a lot of the VMUG's, I was unable to get the time to explore this great new product.



I test-drove the VMware on AWS solution using the hands-on lab. I find HOL a great resource for understanding the purpose of a product before implementing it my environment. It also drives up my curiosity to explore the product further when I get it implemented.
These are the features I'm excited about -
1) Hybrid cloud extension – The ability to stretch my IP address subnets across the hybrid environment without having to change IP's as it moves from on-prem to Hybrid cloud is awesome!
The reason I'm excited about this feature is because in my current lab environment to create a hybrid environment I have setup a VPG between AWS and on-prem. Both are on different subnets and if I have to migrate certain VM's, I would need to change the networking properties.

This brings me to the second reason why I find VMware on AWS a great solution –
2) Performing live vMotion between on-prem and AWS. I find so many applications for this feature –
a. Migrating services from on-prem to AWS in case of disaster occurrence.
b. Selective extension and workload migration between on-prem to AWS to balance the load.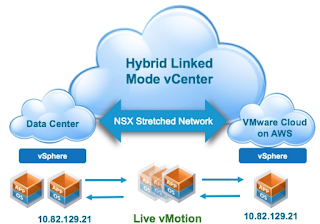 (Courtesy of VMware)

This also brings me to the third reason why I love this new offering.
3) Ability to add new hosts in AWS with a click of a button rather than actually having to deploy a physical host. Wiring them correctly, making sure they have redundant power and finally making sure their networking has been correctly setup can be quite cumbersome. I will take anything that makes my life easy!
VMware partnering with AWS is a dream come true for most IT operations teams. The best on-prem virtualization provider with the largest cloud provider is very beneficial for the organizations that look to expand and at the same time reduce their on-prem footprint.

Moreover, since I come from a monitoring background, I believe a single solution such as VMWare on AWS will make datacenters more secure and error free instead of having different solutions across each.

Note: This article was witten by Aditya Krishnan, TME at Uila and published originally on his personal blog site http://www.dcdummy.com/.