July 23, 2018
Ohh yes! It's that time of the year again. VMworld this year is again being held at Mandalay Bay Casino in Las Vegas. What better place to have the best virtualization conference than beautiful Las Vegas?

Last year was my first year attending the VMworld. I joined Uila on August 1st as a Technical Marketing Engineer. As a Technical Marketing Engineer, a part of my job required me to attend conferences and trade shows to evangelize and educate potential customers with regards to datacenter monitoring and Uila's products. In my previous jobs, I had attended various other shows, however, VMworld was a lot different and in many ways a lot better! Here you will get to see the entirety of VMWare's massive ecosystem of partners and innovations.
Here is what I thought was awesome about VMworld 2017–
1) The show was well organized. Right from the registration process, the keynote and the talks, everything was well structured. I waited in the registration line for about 5 minutes. There have been shows where I've waited in the registration queue for over 45 mins.
2) In VMworld, there is a lot of emphasis given to the community. VMworld was the place where I learnt about the vExpert program and the vCommunity. The vExpert blogger table is a great place to hang around as well. vExperts are an extremely friendly group of people who are passionate about everything VMware. Here, I built relationships with a lot of vExperts whom I still keep in touch with. Since I also go to a lot of VMUG's these days, I find it quite enjoyable to meet them before the shows and occasionally grab beers at events such as vBeers.
3) There are live sessions organized by the beloved vBrownbag crew. I highly encourage everyone to attend at least a couple of these sessions. Here you can listen to talks by a vCommunity leaders and get to know their perspective. Moreover, these sessions are a great way to understand the use cases and innovative implementations of various VMware products.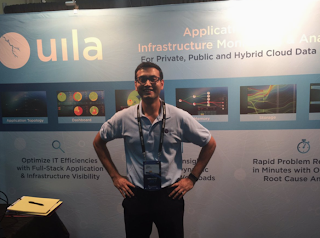 Here is what I look forward to this year –
1) Network more…. And take more selfies!! Last year being my first year at VMworld, I wasn't very well acquainted with the setup. One year on, I look forward to meeting more people and attending more parties.
2) Attend guided workshops and learn more with regards to new VMware offerings such as VMWare cloud on AWS.
3) I have applied to talk for the vBrownbag this year. I hope to get selected and look forward to this unique experience. This would be my first public presentation at vBrownbag and to the vCommunity. 4) I also work with the rest of the Uila team to man the booth. This is exciting because I get to meet all our customers whom I've talked with on the phone but never met in person. Here I gain valuable feedback regarding the product and various ways the customers implement the solution.
Some suggestions –
1) Book hotels ASAP - Last year I booked my hotel and tickets to the VMWorld show quite late. There were no rooms available at Mandalay Bay and Luxor, so I had to stay at Excalibur. Apart from Excalibur being further away to the conference, it's also not a great hotel and smells stale and smoky. This year luckily, I'll be staying at Luxor.
2) Make sure you carry swag for people back at the office who didn't have the opportunity to be at the show. They will appreciate you for it!
3) Vendors, please be a little more innovative with the Swags! Thank you for reading this. Last year was my first year at VMworld.
I had a great experience and I look forward to having a wonderful time this year too! I hope some of the points I mentioned above would be useful for any newbie VMworld attendee to make their experience all the more fruitful.
Note: This article was witten by Aditya Krishnan, TME at Uila and published originally on his personal blog site
http://www.dcdummy.com/.