November 09, 2017
We are proud to announce the availability of the latest release v1.27 for our Application-Centric Infrastructure Monitoring Solution. Here are a few highlights of the new features in the release:
Filter Application dependency maps by individual services or applications
This function in Application Dependency Mapping filters the Dependency Mapping window to display only the selected service or application. This allows the user to focus on the services or applications that they need to monitor or troubleshoot for user complaints.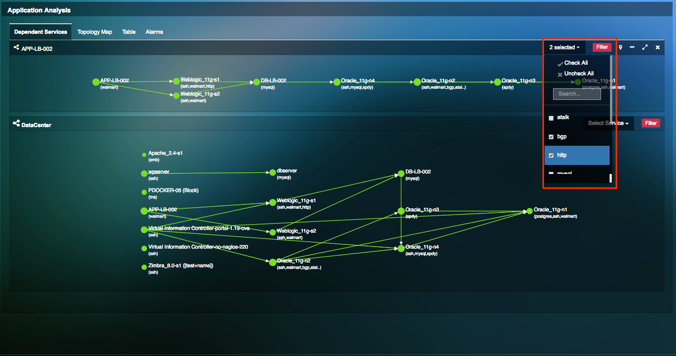 Integration with Zabbix Open Source Platform
The integration with Zabbix will allow Uila to send alarms to Zabbix platform.

The dashboard menu has been intuitively rearranged and grouped according to its functionality. New dropdowns have been added in order to consolidate the sections.
Application – New dropdown for application components within the menu has been consolidated. This includes Dependency Mapping, Transaction Analysis, Service Grouping, Service Availability and User Experience.
Infrastructure – New dropdown for infrastructure components, including Network, CPU, Memory and Storage.
Stats Browser – Stats browser is now a separate menu item.
Settings & Logs – New dropdown that includes Settings, Preferences, System Log and Bookmarks have been consolidated into a single dropdown.
The names within the menu bars have changed in order to clearly state its purpose.
Dropdown

Name

Previous Name

Application

Dependency Mapping

Application

Transaction Analysis

Application Intelligence

Service Grouping

Critical Resources
Layout View options for User Experience
Users now have the option for selecting a large or small layout for the interface, so that they can choose to see more applications at once.
Please get in touch if you'd like to see a demo or run a complimentary trial of Uila's solution with these new features.