January 07, 2019
We are excited to announce the availability of the latest release v2.2 for the Uila solution. Here are a few highlights of the new features in the release:
Custom Build-out for viewing your multi-tier Application Dependency Mapping: Uila now allows you to build-out your Application Dependency Maps on a tier-by-tier basis, to provide you with the ability to visualize dependencies that matter to you. This new editing capability allows you to visualize dependent servers as well as clients. This feature is only available in the Service Grouping section of the application.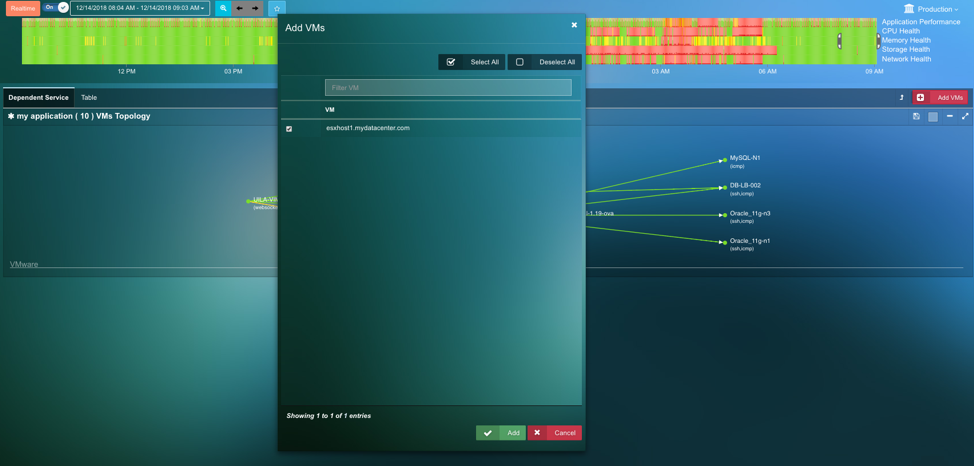 Visualize application workload across multi-cloud boundaries in Service Grouping– Uila provides a single pane of glass for end-to-end Application Dependency Mapping in Service Grouping across all on-prem and cloud-hosted services (VMware, Microsoft Hyper-v based environments, Amazon Web Services, Microsoft Azure, Google Cloud & other Cloud provider deployments). This allows cloud teams to proactively identify service degradation bottlenecks in an unified view.

Transaction Analysis for Microsoft Hyper-v deployments – Uila provides deep insights into web and database applications (MS-SQL, PostgreSQL, DNS, HTTP, MySQL and Oracle) in Microsoft Hyper-v deployments to allow for the issues to be narrowed down and mitigated.
Support for VMware vSAN 6.5 and 6.7 – New support for storage analysis in VMware vSAN 6.5 and 6.7 environments.
Support for any cloud platform including IBM Cloud, Alibaba Cloud, Oracle Cloud, etc. in addition to the ones currently supported (AWS, Azure, Google Cloud)
Table View and Dependent Services within Service Grouping are now in separate tabs.
Please
get in touch
if you'd like to see a demo or run a
complimentary trial
of Uila's solution with these new features.