August 02, 2018
VMWorld 2018 US is almost here! Whether it is your first time or you've been to this event 10 times, the five-day conference is filled with new innovations, learning, fun and above all networking opportunities with the vCommunity and the vExperts. It is the best event to accelerate your knowledge on virtualization technologies by attending breakout sessions, but it also gives you a chance to see some of VMware's vital ecosystem partners and understand how their solutions can help your datacenter.
I'm Aditya Krishnan, a Technical Marketing Engineer for Uila. This is my second VMworld along with the Uila team and I'm really looking forward to meeting the IT professionals from around the globe and help inform how Uila can help overcome their technical challenges in their datacenter environments and beyond.
This year, Uila has various new product offerings in store on display at the show. With the magnanimous growth of Hybrid Cloud datacenters and Multi-cloud deployments, Uila can now provide seamless visibility and bottleneck detection across your public cloud and on-prem VMware environments using our unique Application Dependency Mapping. Also, come by and talk to us on how Uila can help monitor your VMware Cloud on AWS platform.
This year at VMWorld, we will have our Subject Matter Experts at the Uila Booth # 1662 who can chat with you on how Uila can help overcome your business challenges in this dynamic industry. At Uila, our motto is to listen, learn and implement. We listen to our customer needs, learn from the IT experts and implement an innovative solution to enable the ever-growing needs of the industry.
At Uila we've spend the last 2 years on the road at VMUGs across the US and talking with bloggers and vExperts throughout the community. We've been grateful for all the good response and feedback and now for VMworld, similar to last year we wanted to give a small token of our appreciation for the welcome we have felt from the community, so we decided to give out Amazon Fire Pads.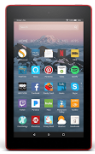 There are 2 ways to win an Amazon Fire Pad from Uila
1. For all VMworld attendees

We are offering everyone the opportunity to pre-schedule a meeting with our expert team to learn more about our application-centric Multi-cloud monitoring and analytics solution. By pre-scheduling your meeting at the Uila booth, you are also entered into a drawing for winning an Amazon Fire Pad.

2. For vExperts

If you are a vExpert, you can pre-schedule a demo meeting with us too, and you are guaranteed to get an Amazon Fire Pad as a gift. If you don't get a chance to pre-schedule, please come by the booth and tell us you are a vExpert and we will put you on the waiting list for the Fire Pad - unfortunately numbers are limited!
Looking forward to meeting many of you later this month.