The Moscone Center
747 Howard Street , San Francisco, CA 94103
---



#vBrownBag TechTalks are ten-minute presentations by community members at an industry conference. They originated with our friend's sessions not being accepted for the main conference catalog. We know we want to learn from the community so we arranged an alternative forum. TechTalks are limited to ten minutes; they deliver the very core of an idea. Keeping presentations short also means we can do a lot of sessions in a day. Most TechTalks use a slide deck, some use a whiteboard and a few brave souls do live demonstrations. TechTalks are delivered to a small live audience at the conference and then posted to YouTube. We like to live stream the video from the conference, you know what conference Internet is like so there are no guarantees of streaming. If the stream is live it will appear below.

At this session on Aug 26, 2019 (Monday), Uila TME and VMware vExpert, Aditya Krishnan will present about the "Advantages of Application Dependency Mapping".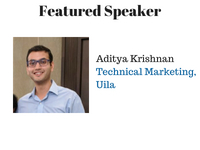 ---
Not Attending Any Of These Events?
You Can Still See Uila In Action From The Comfort Of Your Own PC!
See Interactive Demo