Santa Clara, California-(Sep 5, 2017-PRWeb) – Uila Inc., the Application-centric Infrastructure Monitoring & Analytics company, announced today that its product has won the Best of VMworld US 2017 Finalist Award in the Workload Management & Migration Category last week.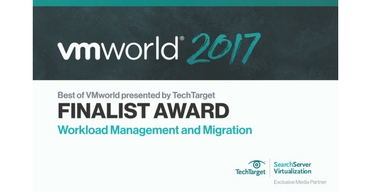 The finalists in the category were evaluated from among the exhibitors at VMworld US 2017 based on innovation, performance, ease of integration into environment, ease of use and manageability, functionality, value, and ability to fill a market gap. The Workload Management & Migration Category called for the innovative solutions to monitor, track and manage workloads either in on-premises servers or in cloud environments, or enable migration of workloads across cloud platforms. These included products that monitor performance, troubleshoot workload availability, manage VM lifecycles and automate workload deployment or configuration.
"We are honored to get the Best of VMworld 2017 finalist award in the Workload Management & Migration Category. The response to Uila from the industry and especially the technical community has been astounding, and shows the need for correlated full-stack visibility for rapid problem resolution in the Data Center," said Chia-Chee Kuan, co-founder and CEO for Uila. "Our agentless solution allows IT Operations teams fill the current vacuum in the industry for full visibility into the applications & workloads dependencies. This visibility is critical for teams who have the primary responsibility of migrating their existing infrastructure as part of the Enterprise Digital Transformation to the Hybrid Cloud", said Kuan.
Foothill Community Health Center IT Director, ShuChung Chang, said "Uila's application-centric performance monitoring has enabled my IT team with its unique visibility across the full-stack to take our performance for our healthcare applications for hundreds of providers, dentists, and clinical assistants to the next level and solve complaints within minutes." Chang continued, "But the key for us has been the automated discovery of the dependencies that exist between these applications to visualize the real impact of challenges of managing multi-tier applications in our environment".
Uila's goal is to solve the ever-increasing trend that is plaguing IT teams, where they lack the tools to be able to correlate application to infrastructure performance in this new Application-centric IT world, to determine what is causing an application to become unresponsive. Existing monitoring solutions focus on specific components in the stack and can't provide end-to-end visibility of the datacenter. As a result, IT staff spend much of their time fighting fires and trying to identify root cause, jumping from one tool to another looking for information, and sitting in finger-pointing meetings. Also missing in most solutions is the network traffic visibility at the virtualization layer, similar to what is traditionally seen network analysis solutions. Uila brings this unique, but critical network analysis aspect to the world of data center management in a single integrated solution.
Uila also recently announced its App Intelligence functionality that provides deep insights and analytics into web and database application (HTTP, MySQL and Oracle) performance. Uila's Application-centric solution is globally available through the Company's partners.
Uila also offers its Data Center performance assessment program via its Root Cause Detective program that helps IT Operations teams discover the unknown issues impacting the application performance in their virtualized environments. Users can sign up for this assessment from https://www.uila.com/root-cause-detective or to learn more about the product, visit our website at https://www.uila.com.
About Uila
Uila gives IT infrastructure teams x-ray vision for their data center operations and end user experience. Designed for Private, Public and Hybrid Cloud environments, Uila's Application-Centric Data Center Infrastructure Monitoring and Analytics provide instant visibility into hotspots and bottlenecks in any data center. Uila provides service dependency mapping, full stack correlation with 1-click root cause analysis and patented deep packet inspection technology that understands over 2,700 application protocols for transactional meta data analysis. Businesses use Uila to align themselves with their IT Operations team and cut time to resolution from days to minutes, keep their application at peak performance at all time and ensure end-user satisfaction to the fullest.
For additional information, please contact:
Dilip Advani, dilip.advani@uila.com
Uila, Inc.
2905 Stender Way, Suite 76E
Santa Clara, California 95054
+1-(408) 819-0777
Follow us on Twitter: https://twitter.com/Uila_Inc
Follow us on LinkedIn: https://www.linkedin.com/company/uila
Follow us on Facebook: https://www.facebook.com/Uila.Inc/
---
Read About Uila's Latest Industry Award
What did Uila win?