Actionable Full-Stack Visibility & Intelligence
Users / Apps / Networking / VMs / Hosts / Storage
Application auto-discovery

for over 4,000 applications with deep packet inspection



Application performance

response time and service levels are tracked constantly.



Service availability monitoring

alerts IT teams to service disruptions immediately.

Application transaction metadata tracks query, response and volume information for deeper investigation into application internals.

Application dependency mapping generates an intuitive topology map for multi-tier application insights.



Performance monitoring

extends across users, sites, applications, databases, virtual machines, compute, storage, and networks.

Physical server monitoring provides a single view across the stack for both physical and virtual servers.

Agentless architecture uses a Virtual Smart Tap that is easy to deploy with zero performance impact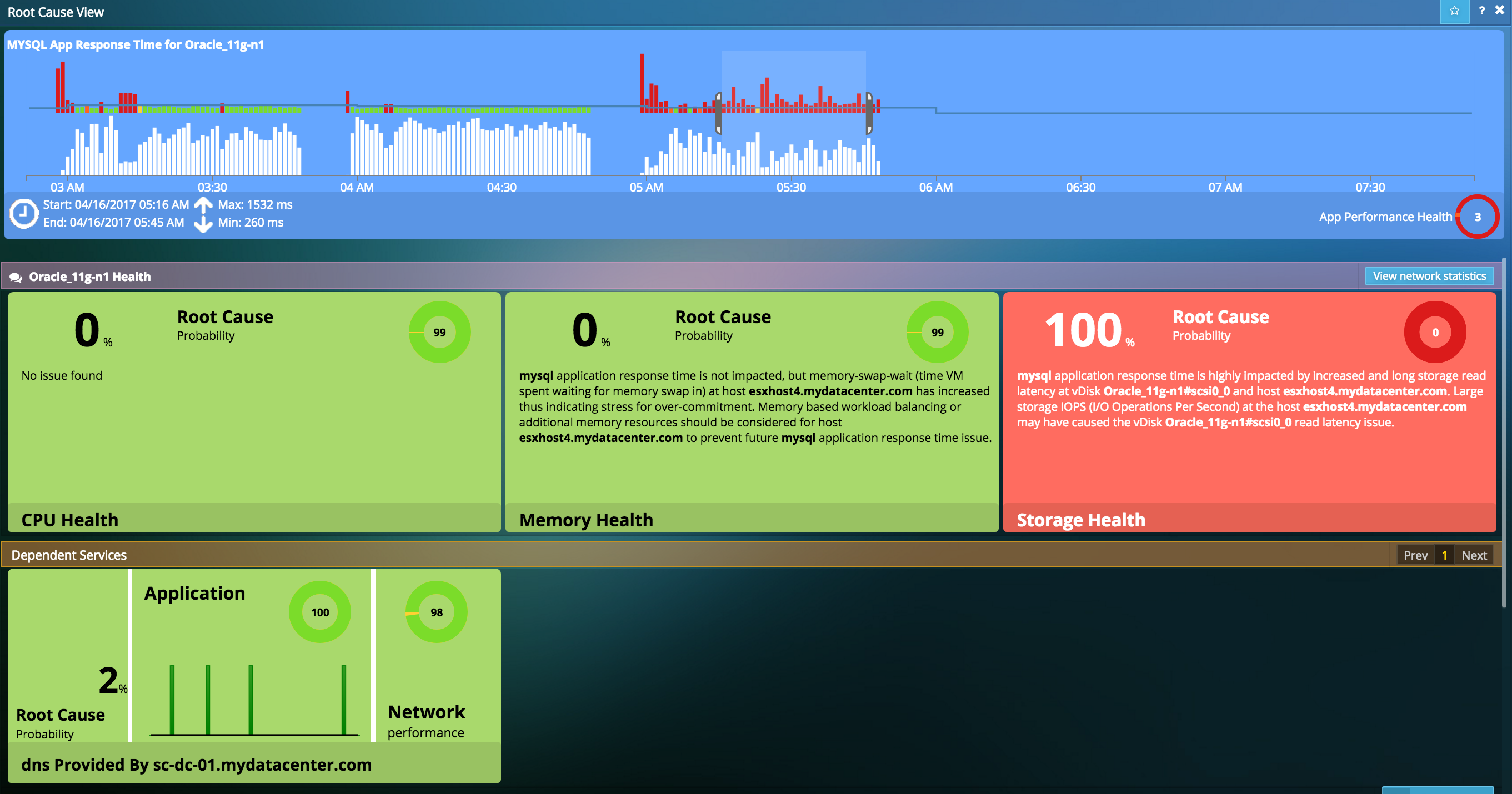 1-Click Root Cause Analysis
Reduce Troubleshooting Time from Days to Minutes
Intuitive dashboard

gives IT teams 1-click access to root cause identification.



Exonerate the infrastructure

with correlated full stack evidence.



Application-to-infrastructure correlation

bridges the IT troubleshooting gap.



Infrastructure and application health visualization

shines a spotlight on bottlenecks that are affecting application performance.


Support for modern infrastructure including hyper-converged, software defined storage and networking.




East-west network traffic analysis

eliminates monitoring blind spots, and lets IT teams see traffic between VMs.




Virtualized and physical server monitoring

with OS process level details helps quickly pinpoint issues within the infrastructure.



End User Experience Monitoring
Identify and Fix Problems Before any Impact
End user response time tracking

proactively alerts IT to service degradation from the user perspective.



Response time analysis

breaks down delay by server, network, storage, application, and clients.



Site-by-site and client-by-client analysis

isolates and correlates user issues to real root cause.

Detailed transaction history

across the full stack provides metadata for investigating application issues.




Network flow analysis

reveals network issues and stress affecting application servers.