The Gorilla Guide to... Application-centric IT for Private and Hybrid Cloud
By ActualTech Media in Partnership with Uila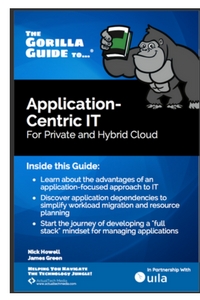 We all know about the war-room conversations that plague most organizations between the application, infrastructure and virtualization teams. But this world is now shifting from being Infrastructure-centric to an Application-centric both for Private & Hybrid Cloud. So how should IT Operations team get ready for this shift? How should they make sure that they don't get left behind? If tasked with hybrid Cloud migration projects, where should they start? How can they solve their "Shadow" IT challenges? Let the Gorilla guide provide you with all ther answers necessary to navigate you through this journey.
In this Gorilla Guide you will learn about:
Advantages of an application-focused approach to IT
Discovery of Application Dependencies to simplify workload migration and resource planning
How to start the journey of developing a "full stack" mindset for managing applications