Topic: Network Traffic Monitoring for Data Center & Hybrid Cloud


In hyperscale data centers, the trend is for only about 15% of traffic to flow north-south while the remaining 85% flows east-west.
Do you have the visibility into this east-west network traffic pattern inside the Data Center or Hybrid Cloud to make sure that it flows efficiently without impacting the performance of your mission critical application?
Are you worried about Shadow IT and struggling to stay on top of the dynamics of the modern data centers with new and exiting application and server dependencies?
In this webinar, we talk about how to use Uila to Identify:
East-west traffic within the datacenter
Application issues in real time that are impacted by networking issues and how to solve them
Shadow IT and stay on top of changes & not drift from the Organization's Business Objectives
This webinar is part of our public monthly series of technical demonstrations/discussions designed to give you and your peers in the industry a deeper dive into Uila and how its Application-Centric Monitoring and Analytics identifies performance bottlenecks for business-critical services & plans Workload Migration strategies for Multi-Cloud environments.
Each session begins with a 5-minute general overview of Uila , followed up by a hands-on demonstration of some of the more popular features of Uila and ending with a Q&A session with the entire audience.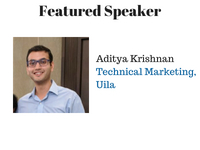 Note: Add marketing@uila.com to your safe sender's list to make sure you don't miss the webex confirmation and recording email.