Topic:
Easily Identify Infrastructure Stress & Deliver Maximized Application Performance for Remote Workers



With major shifts in working patterns for most IT employees in today's challenging situation, being able to deliver business-critical applications with maximized performance to dispersed workers is key for any IT organization.
Remote worker service delivery assurance faces a lot of challenges including:
SDWAN, North-South Traffic Volume increase, VPN setup for home desktops, long network delay (Internet speed vs. enterprise switching speed);
New Applications and/or additional loads that would not otherwise be used, such as Sharepoint, Skype for Business, Slack, etc.;
IT support hours and load as a result of this shift in the employee work schedule, responsibility and workload pattern;
End-user experience troubleshooting and support (end-to-end visibility).
In this webinar we discuss the potential areas of shifting stress as there are multiple areas (Client side issues, Application, Network or the Infrastructure) that could breakdown that will impact the service delivery for the remote worker. We will also discuss strategies on how to resolve them.
Each session includes discussions on the topic , followed up by a hands-on demonstration of how Uila solves the challenge and ending with a Q&A session with the entire audience.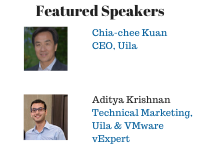 Note: Add marketing@uila.com to your safe sender's list to make sure you don't miss the webex confirmation and recording email.
I want to see the webinar