Topic:
What's new in Uila v3.5?

The goal at Uila is to constantly innovate and introduce features that will simplify the daily monitoring and troubleshooting tasks for our users.
Join VMware vExpert and in-house resident expert, Aditya Krishnan to learn about the new and exciting features being introduced in Uila v3.5.
In this session you will learn about :
VMware Horizon® VDI user session visualization for faster troubleshooting at the end-user level.
Automated and guided vertical tier mapping for Application Dependency Mapping for efficient and faster visualization of assets in the environment.
Automated Application Dependency Map creation for VMware Horizon and Citrix VDI deployments for faster troubleshooting and identification of bottlenecks.
Monitoring for Physical servers.
Many more...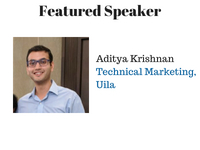 Note: Add marketing@uila.com to your safe sender's list to make sure you don't miss the webex confirmation and recording email.