Uila Architecture
Uila Open Firewall Ports for VMware On-Premise (One-box UMAS where you use 1 VM to host UMAS)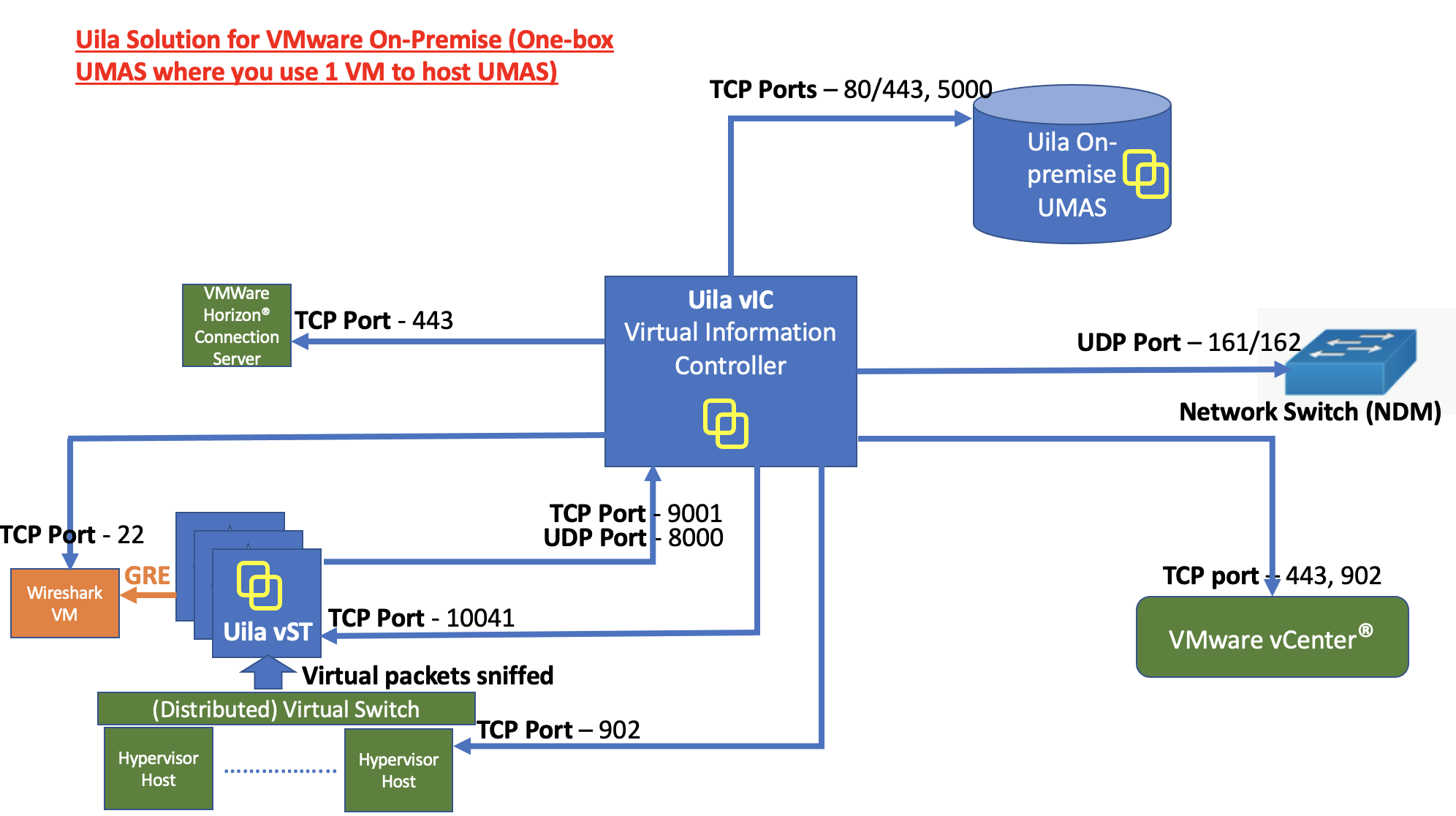 Uila Open Firewall ports for VMware On-Premise (Two-box UMAS where you use 2 VMs to host UMAS)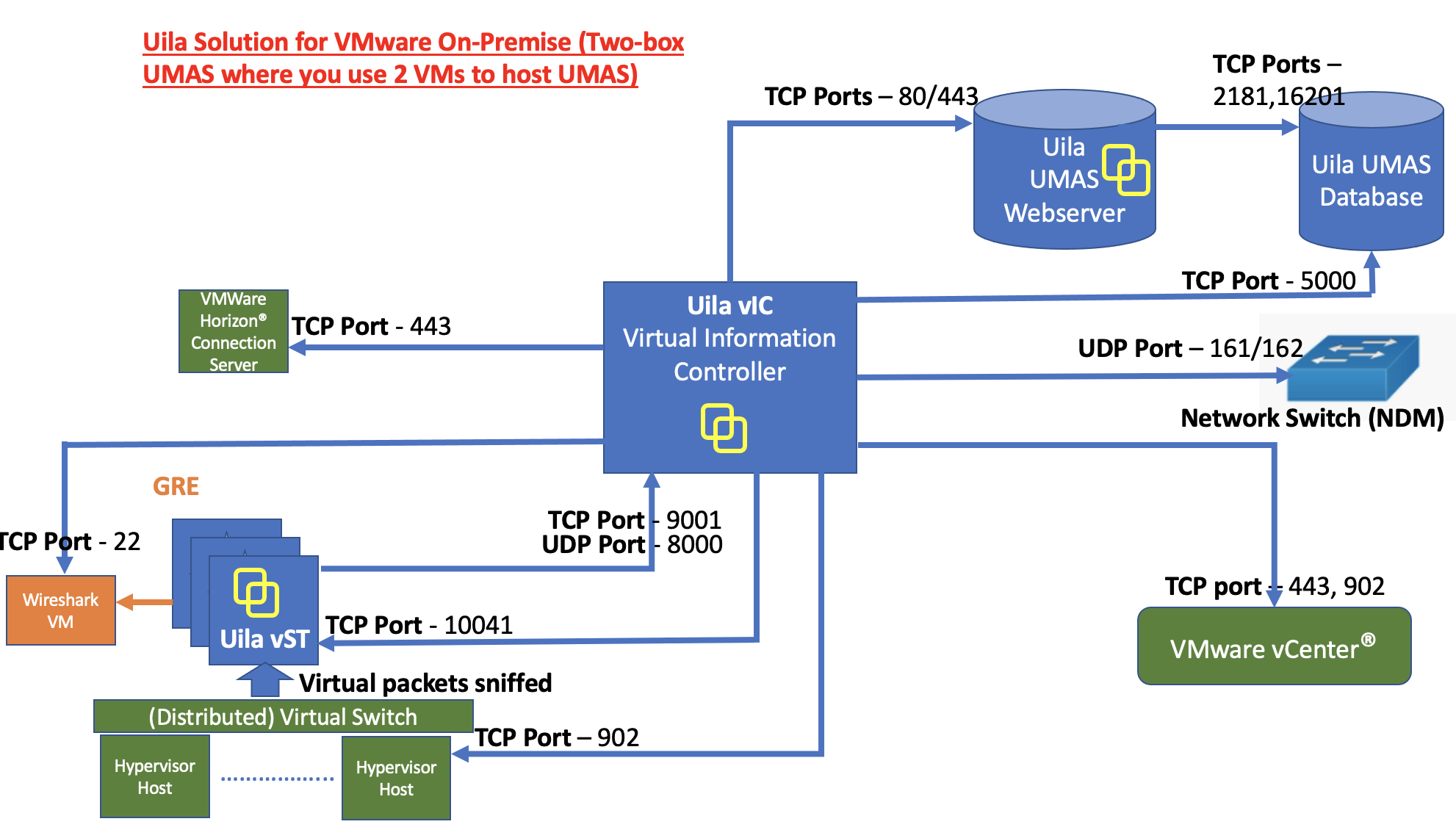 Uila Open Firewall Ports for VMware (Uila Cloud SaaS)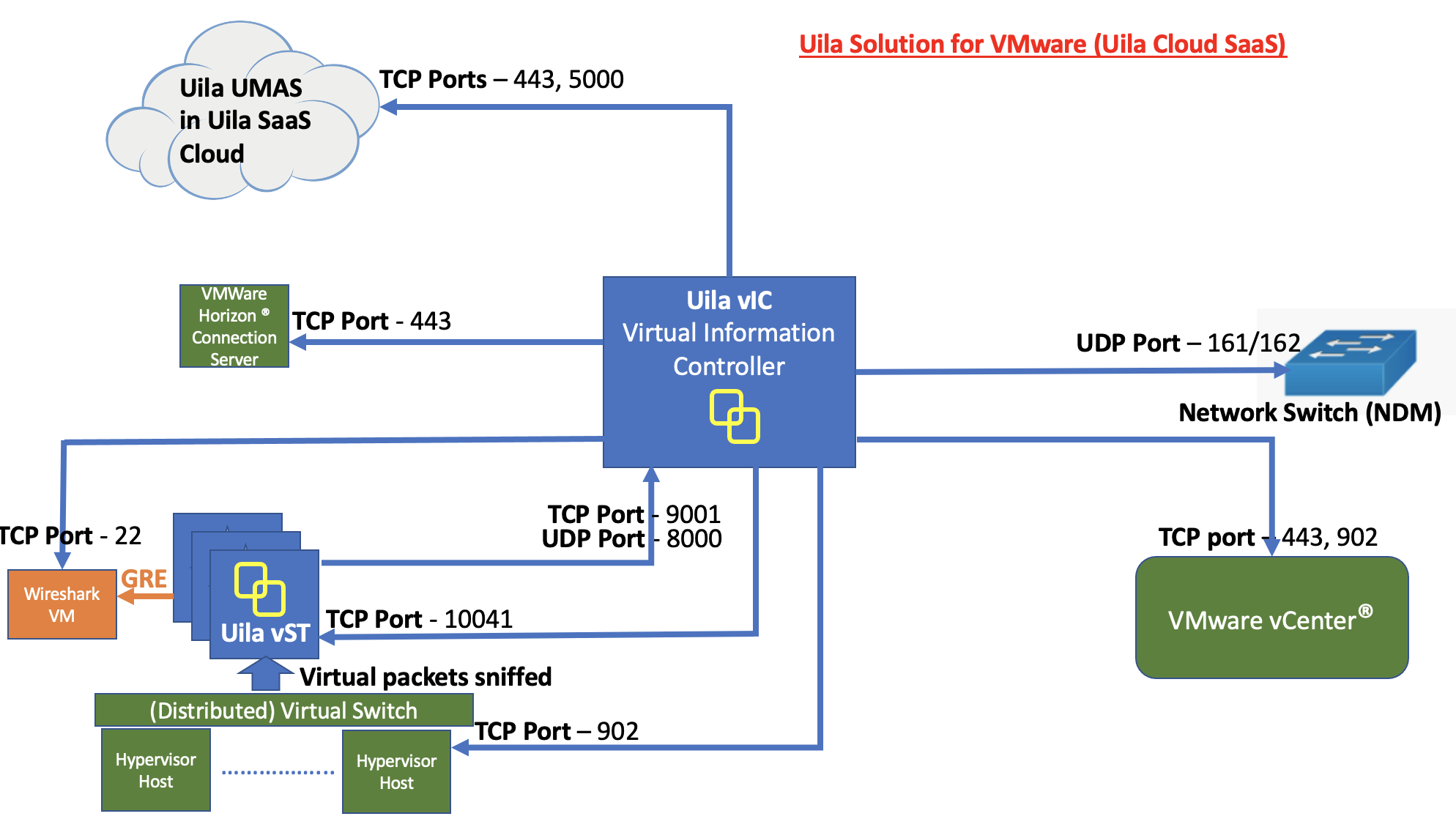 Differences between Uila vST and physical network probe that is attached switch span port or server Ethernet ports directly
Physical probe can only see traffic that pass through ethernet port to the switch, it can't see traffic sent by VM's through vSwitch within a physical host. In a large scale data center, it is impractical, and cost prohibitive to deploy physical probe everywhere. Furthermore Uila vST pre-processes traffic, sends only meta data to Uila Cloud. It reduces traffic overhead by 99% compared to physical probe without pre-processing capability.
Uila vST differences from other products that use agentless software
They typically employ SNMP polling, and other OS API to access statistical information from the Data Center infrastructure. Since it cannot see network packets, it does not have the ability to identify application type and its associated attributes. SNMP polling typically creates higher network overhead than vST.
Uila Installation & Deployment
Ports on firewall to open for WMI
For Linux host, you need to open up TCP port 22 from VIC to each of the Linux Host. For Windows, you need to not block any TCP ports to the windows hosts. And it needs to be routable from the VIC to these hosts.
Uila VMWare Privileges and Permissions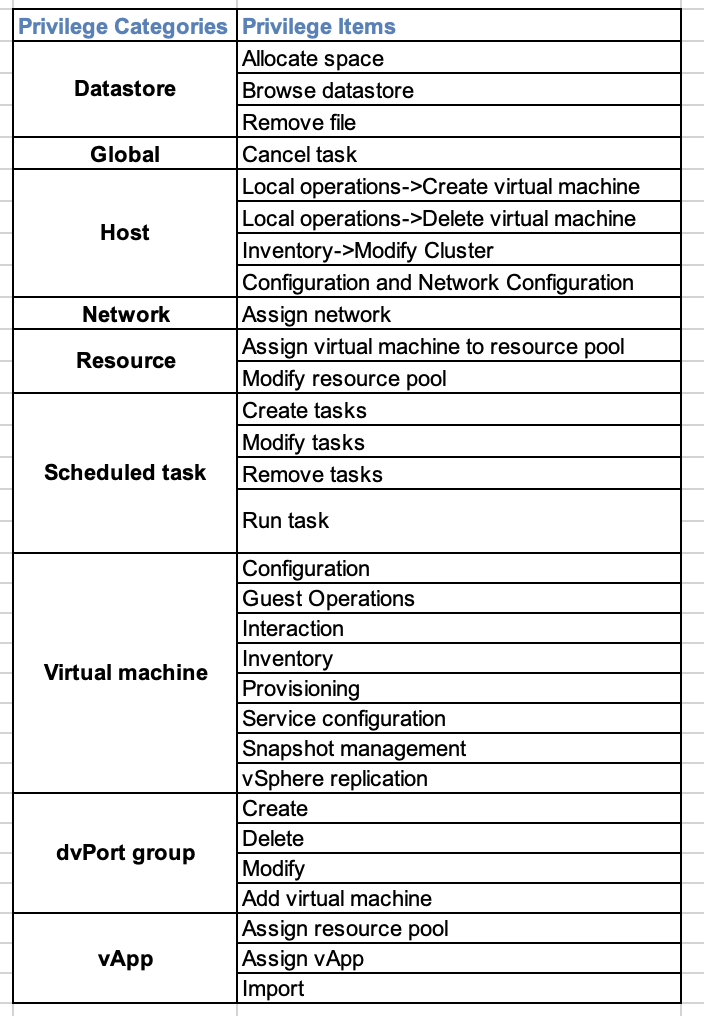 Setting up Active Directory (AD) Permissions for WMI
Step by Step configuration for Windows 10 and Windows Server:

1. Create a normal user via the Active Directory Users and Computers tool.

2. Add the created user to following groups Performance Monitor Users and Distributed COM Users under Builtin.

3. Open a command prompt window and execute the wmimgmt.msc command.

4. Select the Properties of WMI Control (local).

5. Select the Security tab.

6. Select Root and press the Security button.

7. Add the group Performance Monitor Users.

8. Enable all Remote Enable, Execute Methods, Enable Account and all read rights.

9. Close the add dialog and select the group Performance Monitor Users in the list.

10. Select Advanced in the Security for Root dialog and then select the group and press Edit.

11. Select This namespace and subnamespaces to grant read-only access to the whole WMI tree to this account .
Configure the Windows Firewall (needed if the firewall blocks the remote WMI access)

1. Start the Windows Firewall using the Control Panel.

2. It is not necessary to use the Windows Firewall with Advanced Security control.

3. Select Allow a program or feature through Windows Firewall.

4. Open Component Services, Computers, My Computer and then Properties of My Computer.

5. Enable Windows Management Instrumentation (WMI) for Domain and/or Home/Work Networks.
Uila UMAS Deployment options
• Uila Saas Cloud: Require to install Uila vST and vIC in your Data Center.

• On-Prem Server: For customer whose compliance policy prohibits the use of Public cloud service. It requires the installation of Uila server software inside your private data center.
System resources resources for Uila vST, vIC or UMAS
Uila vST traffic overhead
Since vST pre-analyze all traffic captured and only sends meta data in one minute internal, it consumes less than 1% of a 1Gbit network link.
Uila vST's host CPU consumption
It averages no more than 5% on a typical loaded ESXi host.
System resources for Public Cloud (AWS, Azure, Google Cloud, others) deployment
Uila Configuration
Setup CPU/Memory/Storage and Process metrics for external Servers
Prerequisites –
1) Ensure WMI is enabled on the external servers you are looking to monitor (For Windows only)
2) For external servers, ensure you add them manually using the steps from the article –(Monitoring Applications and Networkinn for Physical Servers link)
3) If the server is linux based, you would need to have SSH logon credentials that has access to read only commands like "top"
Steps –
1) Go to settings à Server Montioring
2) Click on "Setup Servers"
3) Click on "External Servers"
4) Select the external servers you would like to monitor
5) Click "New" to add the new login credentials and Select from the dropdown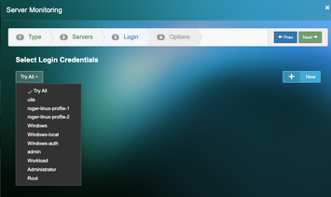 6) Select the options that apply and hit finish –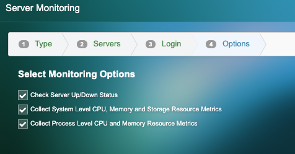 7) Wait for 2-3 mins and see the monitoring status is "Ok" or "Failed"

Setting of thresholds
1) Go to settings —> Alarm Configuration
2) Under threshold settings, click on "New"
3) Search for your desired VM and Click Next
4) Click on the "Edit" box next to the memory
5) Provide the values for minor, major and Critical Threshold and click on OK
Minor threshold = Yellow
Major threshold = Orange
Critical threshold = Red
Uila User Interface
Monitoring Applications and Networking for Physical Servers within Uila
Uila's External Device Monitoring feature provides the user with the ability to monitor physical servers outside the virtual environment.
To setup external devices to monitor for Network and Application-
1) Go to settings à VIC Configuration
2) Under "Manual Display external devices, click "New"
3) Add the required external device configuration and click "Next"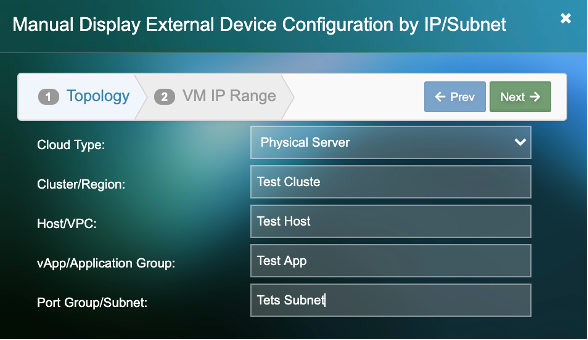 4) Add the "VM Name Prefix". (This will be the name by which the server will be identified in the Uila UI)
5) Click on "New Subnet". Add an individual IP or a subnet for a group of devices.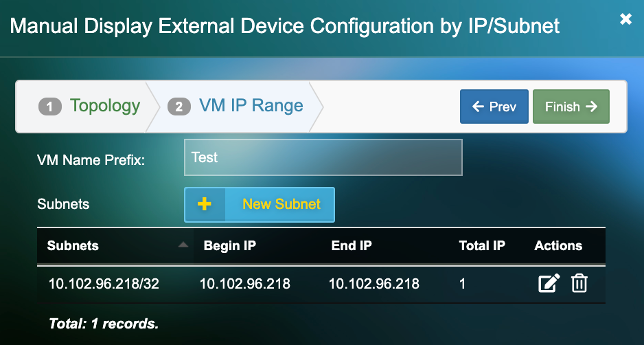 Alternatively, if you have multiple physical servers to add, them via the excel template
1) Create a CSV file with the fields shown below.

2) Enter the information including the IP address of your Physical servers
3) On the Uila UI, go to settings —> VIC configuration
4) Under "Upload External Device Address Book CSV file" upload your spreadsheet.

Uila How-to
Uila Cloud Service
Uila Saas Cloud security mechanisms
Uila SaaS is hosted with a well-regarded hosting company in the United States. Customer data currently resides in the United States of America and primarily in the state of California.

The hosting company tests their security systems and protocols regularly to ensure exceptional response rates, and each year participates in compliance validation programs such as ISO 27001, SOC 1 Type 2, SOC 2 Type 2, HIPAA and PCI DSS. All compliance examinations for those Data Centers are conducted by Schellman & Company, Inc., an independent, licensed CPA firm, QSA, and accredited ISO 27001 certification body by ANSI-ASQ National Accreditation Board (ANAB) and the United Kingdom Accreditation Services (UKAS).

The hosting company also directly employs experienced security officers at their facilities, who receive rigorous annual training and are required to pass certification. CoreSite data centers are protected by a gamut of technological security measures including IP-DVR cameras & perimeter fencing, Biometric SCANNERS & card readers, mantraps, locking cages and cabinets.

For detailed information refer to this document.
Uila Cloud data storage
Although vST can capture and see the network traffics, it only analyzes the packet header to identify unique application and its response time. vST keeps both application response time and network response time for performance analysis.

However, when an application exhibits slow performances, vST will capture small portion of the transaction data, e.g. IP addresses to allow application developer to analyze application issue that might be the cause of slow response time. If capture partial data is prohibited by your company's security policy, we recommend that you select the On-Prem deployment option.
Data captured by vST security during transmission to Uila Cloud
First, the data transmission between vST and Uila Cloud is using Secure Shell (SSH), an encrypted network protocol. Second, we added another security layer by using digital signed certification to ensure the true identity of the vST agent loaded in your server.