Santa Clara, California-(September 12, 2022) – Uila Inc., the Full-Stack Observability company, announced today that its product, uObserveTM was a Best of VMware Explore 2022 award winner with Honorable Mention in the Multi-Cloud & App Modernization Category.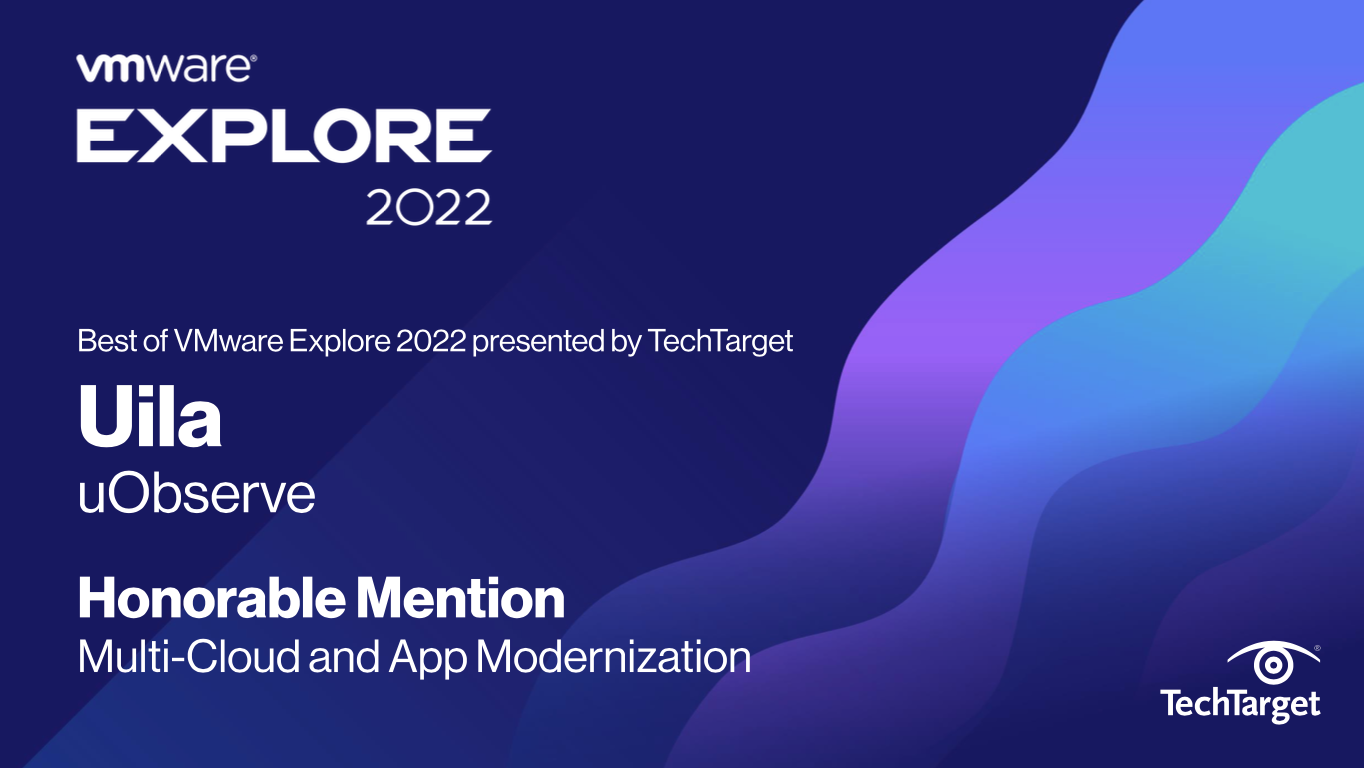 The finalists in the category were evaluated from among the exhibitors at VMware Explore 2022 based on innovation, performance, ease of integration into environment, ease of use and manageability, functionality, value, and ability to fill a market gap. The Multi-Cloud & App Modernization Category called for the innovative hardware and software solutions that enable organizations to build on-premises virtual infrastructures, support multiple cloud environments and update legacy applications to run on cloud-native frameworks. The award recognizes outstanding products that help organizations create and manage infrastructure that is scalable, secure and supports continuous operations.
"It is an honor to be named as one of the Best of VMware Explore 2022 award winners in the Multi-Cloud & App Modernization Category. The continued response to Uila from the industry over the last few years and especially the technical community has been astounding and displays the tremendous need for full-stack observability to resolve application disruptions in the Multi-cloud world," said Chia-chee Kuan, CEO and Co-founder for Uila. "Uila provides deep application visibility and end-to-end correlated VDI User, virtual/physical network, compute, storage, cloud resource insights & automated remediations to help reduce unplanned downtimes and slowdowns across the entire multi-cloud infrastructure, improve end-user experience for the cloud user and increase IT team collaboration and efficiency", said Kuan.
Uila also recently announced its logging analysis and observability capabilities that allows users to get instant and automated access to out-of-box correlated and contextualized logs from multiple systems and applications. Uila's new log analysis capability, which is part of its new logging module provides access to logs from multiple systems including Windows (Event and Active Directory), IIS servers, Zscaler, Cisco, Barracuda, F5, Checkpoint, Juniper, etc. and applications like Microsoft SQL server, VMware Horizon, IBM MQ, Oracle, Office 365, and much more. Users are also empowered with Contextualized querying and filtering within those logs for accelerated troubleshooting and infrastructure management. Pre-built search profiles for the most common user challenges make isolation and troubleshooting of the issues even simpler.
Uila also offers a free trial for IT teams across enterprise organizations globally. It can be requested from https://www.uila.com/uila-free-trial
About Uila
Uila resolves Complex IT Disruptions for Enterprise Organizations with its Intelligent Full-Stack Observability Platform, that correlates Application and Infrastructure Performance to isolate and remediate issues before business impact. With Uila, IT teams can visualize application workload dependencies across cloud platforms, rightsize infrastructure resources, troubleshoot disruptions for any onsite or remote VDI user due to application/network/infrastructure challenges, plan workload migration strategies for Cloud deployments and use AIOps to streamline troubleshooting and reduce MTTR with remediation actions. And most importantly, this is done WITHOUT any agents. Uila also allows security teams to combat advanced cyber threats, by providing comprehensive application anomaly insights, cyber threats & Data Exfiltration activities. Organizations use Uila to align themselves with their IT teams and cut MTTR from days to minutes to always keep End-User Experience at peak performance & secure, across cloud boundaries.

About SearchVMware.com
SearchVMware.com™ is dedicated to helping IT organizations evaluate products, services and business strategies that can lead them to successful implementations of virtualization technologies in VMware environments
Its sister site SearchVirtualDesktop.com™ is the premier source for information on desktop virtualization, application virtualization, and virtual desktop infrastructure.
About TechTarget
TechTarget (Nasdaq: TTGT) is the global leader in purchase intent-driven marketing and sales services that deliver business impact for enterprise technology companies. By creating abundant, high-quality editorial content across more than 140 highly targeted technology-specific websites. TechTarget attracts and nurtures communities of technology buyers researching their companies' information technology needs. By understanding these buyers' content consumption behaviors, TechTarget creates the purchase intent insights that fuel efficient and effective marketing and sales activities for clients around the world.
TechTarget has offices in Boston, London, Munich, Paris, San Francisco, Singapore and Sydney. For more information, visit techtarget.com and follow us on Twitter @TechTarget.

Contact Information
Dilip Advani
VP of Marketing
dilip.advani@uila.com
---
Read About Uila's Latest Industry Award
What did Uila win?